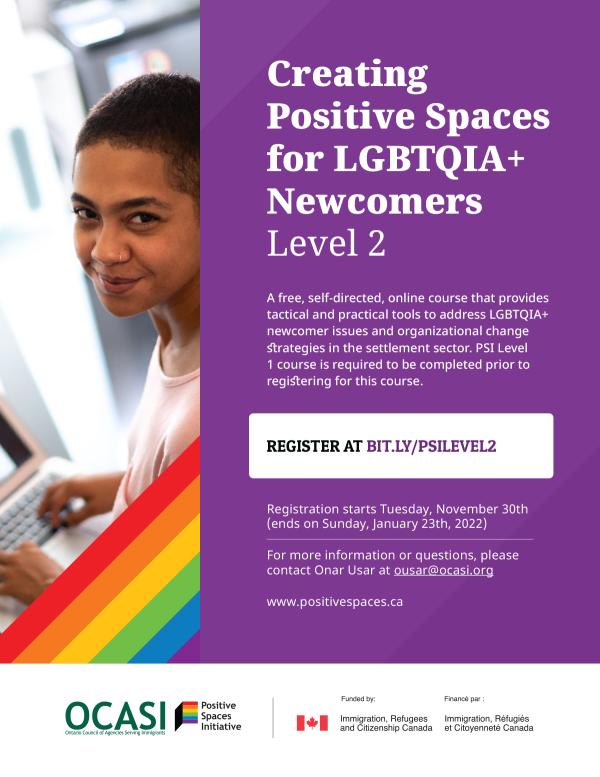 We are very excited to announce for a brand new, self-directed, online training on: 
Creating Positive Spaces for LGBTQIA+ Newcomers Level 2
for managers and service providers to more effectively serve LGBTQIA+ (lesbian, gay, bisexual, transgender, queer, intersex, and asexual) immigrants, refugees, and newcomers. This 3 week training is supplementary to Creating Positive Spaces for LGBTQIA+ Newcomers Level 1. It provides tactical & practical tools to address LGBTQIA+ newcomer issues and reviews organizational change strategies. 
Registration is now open November 30th, 2021 
Registration Deadline: Sunday, January 23, 2022
To Register: click here
If you have any questions or for more information, please contact Onar Usar at ousar@ocasi.org
Learning Objectives
Upon completion of this 3 week course you will:
1. Engage with issues of intersectionality to further develop critical thinking skills and build capacity
2. Strategize about resistance to change through various techniques, and confront overt/covert biases of co-workers and clients
3. Enhance organizational systems to embody best practices for working with LGBTQIA+  immigrants and refugees    
Course Information
Prior completion of Creating Positive Spaces for LGBTQIA+ Newcomers Level 1 is required. 
This course is open to managers, settlement workers, and service providers who are working in or with the immigrant and refugee-serving sector across the province who are willing to:
Commit to approximately 2-4 hours of learning per week
Practice active participation through the program
Engage in Positive Spaces Initiative (PSI) Group in www.SettleNet.org, a new national online Community of Practice for the Settlement Sector
Complete assignments within the given timeframe
The course will run between January 24th - February 20th, 2022
At the successful completion of each level, you will receive a certification of completion from OCASI
OCASI is committed to supporting the settlement sector to create welcoming, positive and inclusive spaces for all. This course will allow settlement sector employees to acquire new skills and knowledge in service provision areas to immigrants and refugees within the settlement sector.
OCASI-PSI online training series is funded by Immigration, Refugees and Citizenship Canada (IRCC)