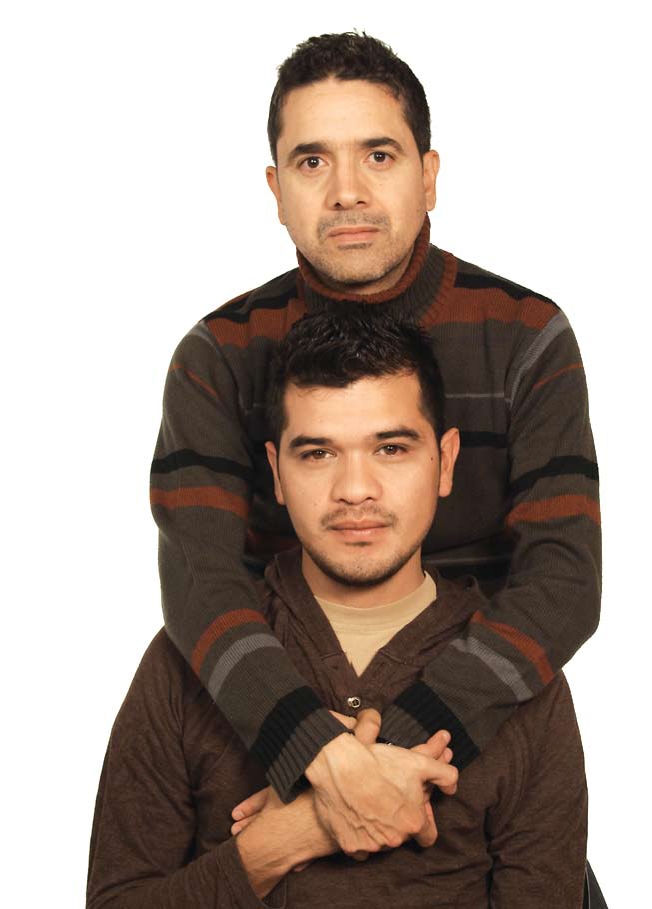 Norman and G have been fighting for their rights as a gay couple for nine years. It is a fight that has taken them from Honduras, their home country, to the United States, where they applied for asylum and lived for six years, and now to Canada, where they have lived for the past three years while awaiting the outcome of their refugee claim. This journey has been important for Norman and G because after being partners for 13 years, they finally feel comfortable living together, openly, as a couple and as a family. Norman feels that this has helped him be who he truly is: "Ten to fifteen years ago, I couldn't be myself. I couldn't live the way I can now live. One day, I just met this guy, G, and I just fall in love. And we decide to move out of our country because people there hurt us so much."
Both men were accomplished professionals in their home country: Norman was a pharmacist and G was an engineer. Initially, they applied for political asylum in the United States because same sex relationships are not recognized there. Instead, their lawyer suggested that they should marry women to make them seem more credible to immigration. While very hesitant to make an untruthful claim, Norman and G did as they were advised. Not only were they both denied refugee status in the US despite getting married, but G was threatened with deportation.
Both Norman and G knew they could not return to Honduras where they felt they would never be able to live freely. A friend suggested Canada might be a more welcoming society for refugees and gay people, so Norman and G decided to pursue making a refugee claim here. They felt tremendous relief arriving in Canada after so many years feeling threatened by police and state violence in both Honduras and the US. Knowing that their rights are protected here helped them feel safe as they dealt with immigration for the first time. G recalls: "I was crying in that moment because it make me feel very happy and very emotional. Because Norman and me, we can speak about us together."
They now live in Hamilton, Ontario where they spend their days volunteering, going to school and working towards having their professional credentials recognized. Even though they were licensed professionals in Honduras and went through a recertification process in the United States, Canada recognizes neither. They dream of the day they can work as professionals again. Going back to school has been a mixed experience. Norman found himself with a homophobic classmate and a teacher who did little to intervene. G, on the other hand, decided to come out to his class one day. He said to them: "'I'm going to tell you the truth. I am not here under the political refugee. I am here because I am gay. And I live with my partner.'" He asked that they keep his story confidential, but felt it was important to share his experience – some of his classmates have now met Norman, and he feels good about his decision to be open about his life.
Norman and G have a strong sense of community. Through their volunteer work in a senior's centre, they have learned about the resources available here – something they would have found useful when they first arrived in Canada: "We have found many resources. We know we are going to suffer discrimination because homophobia is everywhere around the world and in all the levels. We know where to call. We know who we could speak with." (G). They also appreciate spending time with other queer newcomers: "Because you can talk, and can relate to stories, and everything that happened to you. And you don't feel that judgment because people are simply like you." (Norman).
For Norman and G, being in a country where they believe their rights are protected helps them feel safe despite the homophobia that is often part of their life. Although G still has nightmares about his experiences, and would like to talk with a queer counsellor to help him heal these traumas, he appreciates that he and Norman can live together as a common law couple and be open about their relationship. While Norman and G wait for a decision about their refugee claim, G is writing a book about their story. He is still waiting for its conclusion, and is hopeful that Canada will give it to him.
---