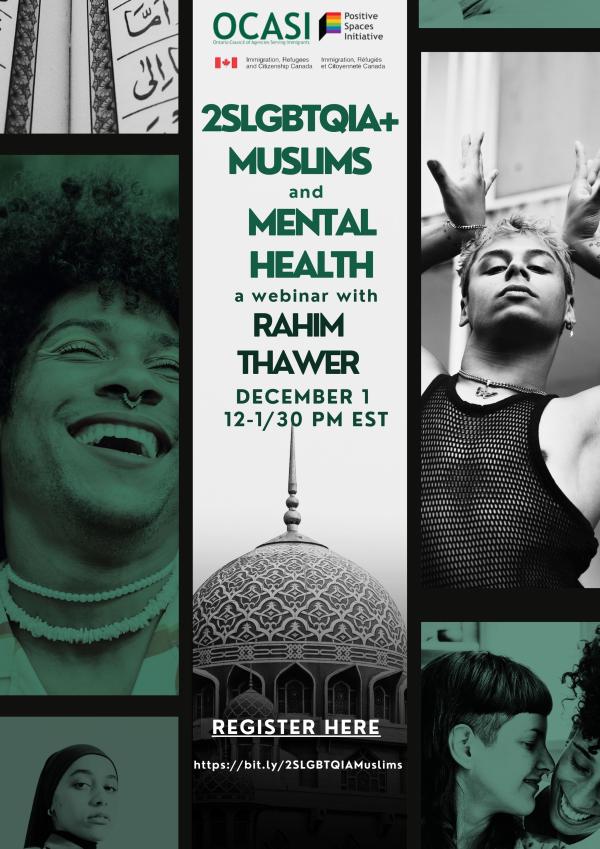 OCASI - The Positive Spaces Initiative (PSI) cordially invites you to participate in the upcoming webinar: 2SLGBTQIA+ Muslims and Mental Health
Date: December 1st, 2023
Time: 12 - 1:30pm EST
This webinar by Rahim Thawer will draw on academic literature, personal lived experience, and community organizing work with two queer Muslim groups based in Canada. We will unravel the tensions that affect the mental health of 2SLGBTQIA+ Muslims, including managing homophobia and coming out, reconciling sexuality and faith-based identities, both being critical of Islam and fighting Islamophobia, seeking and creating affirming spaces, acculturating as asylum seekers and Canadian-born 2SLGBTQIA+ Muslims, and religious-cultural factors affecting access/understanding of mental health services. There will be a Q&A period at the end of the session.

Learning Outcomes:

1. Examine the religious, cultural and political diversity among Muslims across the globe
2. Articulate various meanings of what it means to be a queer or trans Muslim
3. Consider unique needs of this minority that exists within a minority
4. Explore the intersection of homophobia, transphobia and Islamophobia

Rahim Thawer (he/him) works as a psychotherapist, clinical supervisor, facilitator and public speaker, sessional lecturer, writer, and community organizer.
Closed captioning will be provided
If you have any questions or for accessibility requests, please contact Onar Usar (she/her) at: ousar@ocasi.org by November 24th, 2023.